5 Things to do when you can't woodwork…
If you follow me on Twitter you know that I've been sidelined from serious woodworking for a few weeks now with a broken thumb.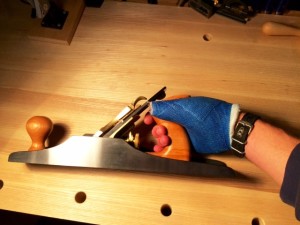 This has certainly put a halt to my project list, so it got me thinking, "What's a woodworker to do when he/she can't woodwork??"  There are always some times when this is bound to happen – could be weather related (cold temperatures in an un-heated shop?), or time of day related (2am and your spouse, kid, roommate, neighbor, dog, etc… is sleeping?), or situation related (moving houses and everything is packed?), or, God forbid, health related?  There are all sorts of reasons that could leave someone wanting to woodwork, but unable to.  Luckily I've been able to scratch my woodworking itch in a few other ways.  The following is a list of a few things I've been able to do with my shop time, what do you do to satisfy your woodworking habit when you can't actually work wood?
Design – I'm sure that I'm like a lot of people in that I tend to jump into projects quickly sometimes.  Oftentimes that means that I run into some sort of hiccup during construction, whether that be needing more lumber, or supplies, or maybe cutting things in the wrong order.  These things could probably be eliminated with better planning and design.  Not being able to get into the shop, but still having some time available, allows you to plan through the entire project on paper first, hopefully catching any issues that may come up during building.I typically start my design process by writing down the purpose or goals of the project, then doodling some design ideas in the shop notebook.
If it's a detailed project then I'll take the next step and model out the finished piece in a 3D modelling program.  I use Blender because I'm more familiar with it, but Sketchup is a common one as well.
During the modelling process I may run into things that I didn't think of, or problems that may come up during construction (like the need for mitered tenons on the above workbench design), so I'll make sure to jot down these notes in the shop notebook as well.  Now I can make a cut list or build plan if needed.
Watch Videos/Read Books – You certainly don't need me telling you that this is something to do in your woodworking downtime.  There is so much content available now that there's never been a better time to be a woodworker.  The Ipad normally serves as my source for woodworking material, but I went old school recently and dug out some old issues of Fine Woodworking, grabbed some DVDs off the shelf, and got to it.

Clean – I try to make it a point to always give the shop a quick cleaning at the end of the day – put the tools away, sweep the bench/floor, etc, but over time it can still get pretty dirty.  If you're able to get into the shop and need a low noise or low calorie count activity, then doing a full cleaning is great.  I can grip just enough with my right hand to hold a broom and my shop has never been so clean.  It's also a great time to organize the tool box, shelves, drawers, etc.  My shop will never be as clean as Klausz's, but it's a good way to get into the shop!
Buy Tools! – Woodworkers generally don't need any excuses to buy new tools, and I don't normally give advice to buy anything, but the truth is that there are normally always purchases to be made.  Sometimes these purchases require quite a bit of research, so this non-woodworking time is perfect for this.  Other times, especially when following the advice of number 1, you may run into tools/supplies that will be needed for the next project.  Getting these in advance will make sure you don't have any shipping delays while working on your project.
Visit Museums or Historical Sites – Finally, one of the last things that I plan on doing during my hiatus is visiting the Winterthur museum.  I'm fortunate to live only a few miles from the grounds in Wilmington, DE, so this works out quite well for me.  If you have any interest in period furniture making then I highly encourage you to check out nearby museums or historical sites.  They will often have sections on antique furniture and may even let you peek underneath if you have a willing tour guide!  For some possible locations head on over to the Society of American Period Furniture Makers – SAPFM.

That's my list of things to do when you can't woodwork – what's yours??